Use Fat Burner Pills to Increase Your Metabolism and Boost Your Mood
Get ready to fire up the fat-burning engines and commit to your weight loss goals! Dieting can leave you feeling tired and grumpy, making it hard to stay motivated on your weight loss journey. That's why we decided to create IdealBurn!
IdealBurn combines two powerful blends of ingredients for a powerful fat-burning supplement to help support your weight loss. Our Thermo Oxidation Blend Promotes healthy metabolism and fat oxidation while the Neuro Energy Blend helps you feel energized.
IdealBurn can be especially effective when you complement it with The IdealPlan. Need a good jumpstart to your weight loss journey? Start with IdealBurn!
Suggested Use: Take one (1) IdealBurn capsule with 16oz of water at least 30 minutes before breakfast for one week. After one week, add another capsule at least 2 hours before lunch with 16oz of water. Do not exceed two (2) capsules a day. After 7 consecutive weeks of using (2) capsules per day, completely stop using IdealBurn for one week to re-sensitize your body to this powerful supplement. Then start the cycle again.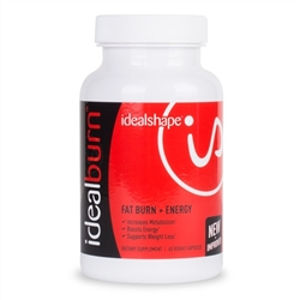 Neuro Energy Blend
Feeling good and feeling energized goes a long way toward success on a weight loss plan! You need energy to stay motivated and on top of your goals. You also need energy to feel ready to hit the gym and stick to your weight loss plan. IdealBurn's Neuro Energy Blend contains L-Tyrosine, Natural Caffeine, Huperzine A Extract, and Bioperine.
Thermo Oxidation Blend
Heat up your results with a powerful combination of fat burning ingredients. IdealBurn's Thermo Oxidation Blend contains Green Tea Leaf Extract, Cayenne Pepper Fruit Extract, Thermodiamine™ and Purple Tea with GHG™. These ingredients help to support your metabolism.
Metabolism Boosting
IdealBurn contains green tea and caffeine. Caffeine anhydrous to help you feel energized and ready to tackle your weight loss goals.
IdealBurn
Serving Size: 1 Capsule
Servings Per Container: 60
Supplement Facts
Thermo Oxidation Blend
Per Serving
% Daily Value*
Green Tea Leaf Extract
(50% PolyPhenol)
200mg
*
Cayenne Pepper Fruit Extract
(Capsicum annuum)
50mg
*
Thermodiamine™
(Evodiamine 98%)
10mg
*
L-Carnitine
100mg
*
Neuro Energy Blend
L-Tyrosine
250mg
*
Natural Caffeine
125mg
*
Huperzine A Extract
(Huperzia serrata)
0.1mg
*
Bioperine™
(Black Pepper Extract)(95% Piperine)
2.5mg
*
*Daily Value Not Established
We Guarantee You'll Love IdealShape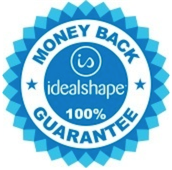 Try IdealShape 100% RISK FREE! We know the power of our products. That's why if you are unsatisfied with our product in any way, simply return it to us and we'll give you a refund of the purchase price up to 30 days after your order date.